Marine
This Building America Optimized Solution describes a set of building practices necessary to achieve the next step in energy performance for new homes (approximately 30% energy savings above the B10 Benchmark - roughly consistent with the 2009 International Energy Conservation Code).   This package of measures meets and exceeds DOE's Zero Energy Ready Home (ZERH) program requirements and was selected for its performance in the following areas:
Energy Savings
Affordability
Buildability
Durability
Healthy Indoor Environment
The high performance builders profiled in the case studies found below the interactive box show just a few examples of the hundreds of ways a builder can meet the premium levels of energy savings Building America strives for, while qualifying for the ZERH.  Print the Optimized Solution for the Marine Climate.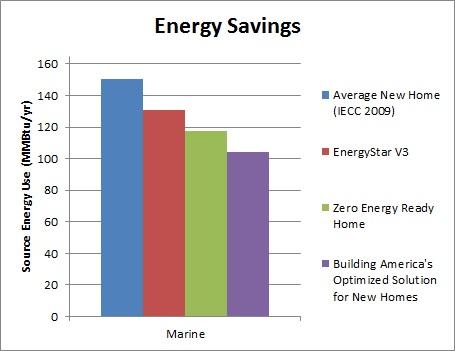 Measure
Performance
Options
High-R Ceiling

R-49

Spray Foam and Permeable Insulation
SIP Roof

Blown-in Insulation
Batt Insulation

High-R Walls

R-20 Cavity and R-10 Continuous

Advanced Framing
Single-Wall Cavity Insulation

Spray Foam
Spray Foam and Permeable Insulation

SIP Walls
Insulated Concrete Walls

High-R Foundation

R-19 Cavity or R-15 Continuous (Crawlspace)

High-R Window

U≤0.21 (R≥4.8), SHGC≥0.4

Air Tightness

ACH50≤2
| | | |
| --- | --- | --- |
| Heating Equipment | 94% AFUE (Gas) or 10 HSPF (Electric) | |
| Cooling Equipment | 16 SEER | |
| Whole-House Ventilation | ASHRAE 62.2, 5 cfm/W and 70% Heat Recovery | |
Measure
Performance
Options
Water Heating

EF 0.8

Lighting

ENERGY STAR

Compact Florescent Lighting (CFL)
Light Emitting Diode (LED)

Appliances

ENERGY STAR

Exhaust Fans

ENERGY STAR

Ceiling Fans

ENERGY STAR
Case Studies
Publication Date:
September, 2013
Case study of a DOE Zero Energy Ready Home in Seattle, WA, that scored HERS 34 without PV. This 2,000 ft2 system home has R-45 double-stud walls, an unvented flat roof with 2 inches of spray foam plus 18 inches blown cellulose, R-42 XPS under slab, triple-pane windows, and a ductless mini-split heat pump.
Publication Date:
September, 2014
Case study about a Zero Energy Ready Home construction project in the marine climate.
Publication Date:
September, 2014
The home is the builder's first home certified to the Passive House Institute standard and their first certified to the high energy performance standards of the U.S. Department of Energy's Zero Energy Ready Home program.