Basement Wall Insulation
Preparation

| | |
| --- | --- |
| ▢ | The basement shall be inspected for any evidence of asbestos, lead paint, bulk water penetration, moisture or pest damage, and a list of any potential problems shall be provided to the homeowner before proceeding with the work so remediation can be fully addressed as necessary. |
| ▢ | Doors from the basement to the outside shall be replaced with minimum R-5 insulated doors that are fully weather-stripped. |
| ▢ | A continuous sealant (e.g., caulk, foam, or aerosol sealant) compatible with its intended surfaces and maximum gap dimensions shall be applied to all exposed rim joist and foundation wall cracks, seams, or holes including where the foundation meets the sill plate, where the sill plate meets the rim joist, and where the rim joist meets the subfloor. |
Option 1: Unfinished Basement Insulation

| | |
| --- | --- |
| ▢ | All rim joists adjoining the exterior shall be insulated directly against the rim joist with closed-cell spray foam and/or rigid insulation board to an R-value that meets or exceeds the 2012 International Energy Conservation Code. If only rigid insulation board is used, seams shall be fully sealed with caulk, foam, mastic, or flashing tape specified acceptable by the rigid insulation manufacturer. |
| ▢ | Basement walls shall be insulated with either spray foam or rigid foam insulation panels. |
| ▢ | If using spray foam, a steel-stud wall shall be constructed 2 inches away from the foundation wall. (The space allows complete coverage of the wall and reduces thermal bridging.) High-density closed-cell or medium-density open-cell foam shall be sprayed directly on the entire surface of all foundation walls adjoining the exterior. |
| ▢ | If using rigid foam insulation panels, they shall be attached to the interior of the basement wall with construction adhesive applied in a serpentine pattern. When using two layers of foam, stagger the seams. These panels shall completely cover all basement wall surfaces exposed to the exterior with no air gap between them and shall be fully in contact with the masonry wall, with no gaps. Panel seams shall be fully sealed with caulk, foam, mastic, or flashing tape specified as acceptable by the rigid foam manufacturer. |
| ▢ | If using rigid foam insulation panels, furring strips shall be installed to create a nailing surface for the drywall. |
Option 2: Finished Basement Insulation

| | |
| --- | --- |
| ▢ | If the basement walls are already covered with framing and insulation, inspect the cavity walls for moisture. If no evidence of moisture is found, the walls can be left as is. If evidence of moisture is found, or if higher insulation levels are desired, remove the existing cavity wall, remediate any sources of moisture, then insulate the walls with spray foam or rigid foam and install a new insulated frame wall if desired.. |
Commissioning

| | |
| --- | --- |
| ▢ | Any exposed non-fire-rated spray foam or rigid foam insulation shall be covered with a code-approved ignition barrier or a fire-rated assembly such as 1⁄2-inch drywall. |
| ▢ | If drywall is installed, it shall be at least 1⁄2 inch off the floor to help protect against potential moisture problems. |
| ▢ | A combustion safety test shall be performed if any natural draft combustion equipment exists in the basement to help ensure there is no back-drafting or spillage of combustion emissions. Recommendations for remediation shall be made to the homeowner where combustion safety issues are identified. |
| ▢ | At the completion of the work, a radon test kit shall be provided to the homeowner to measure post-retrofit radon levels and implement a remediation strategy if radon levels exceed EPA limits. |
Tips to Sell Quality Installed Home Improvements
Home Improvement Expert (HIE) is a valuable tool for organizations committed to quality installed work. The following tips help optimize the value of this tool when selling home improvements:
Be the Expert: Take advantage of Building America Solution Center comprehensive guidance on 'Existing Home' retrofits.
Earn Trust: Inform homeowners how your work conforms to U.S. Department of Energy (DOE) world-class expert guidance and recommend homeowners visit the DOE website as evidence these are indeed official best practices.
Clarity with Contrast: Tell prospective homeowner clients to compare your expert recommended best practices with other contractors.
Ensure Equivalent Pricing: Tell prospective homeowner clients to insist other bids also include DOE checklists to ensure equivalent quality work.
Translate Value: Note your company uses DOE HIE Checklists based on world-class expert recommendations for home improvements on all your public-facing communication including websites, advertising, and signage.
Create Emotional Experiences: Provide visual evidence contrasting the difference between poor and high quality work such as infrared images for good and bad insulation and air sealing; pre- and post-energy bills following quality installed work; short and long warranties for standard and high-efficiency equipment; and charts showing amounts of contaminants in homes that can be reduced with effective fresh air systems.
Basement Wall Insulation Background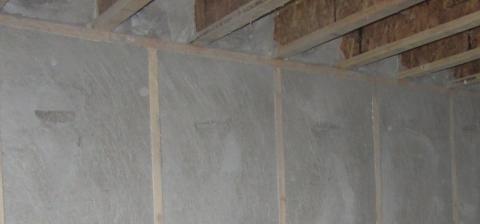 Older homes without effective basement wall insulation allow excessive heat loss in winter and heat gain in summer. Insulating walls is a highly effective way to improve your home's performance. It can reduce your heating and cooling bills, improve comfort with less drafts, and help your home meet increasing performance expectations. The optimum location for basement wall insulation is on the exterior; however, this is typically impractical for existing homes. The following options are available for insulating from the inside. For exposed foundation walls, spray foam or rigid foam panels can be applied directly or a framed assembly can be constructed then filled with batt or blown-in insulation and finished with drywall. For finished basements, holes can be drilled and insulation blown into the framing cavities.