Window Replacement
Preparation

| | |
| --- | --- |
| ▢ | An ENERGY STAR certified or better window matched to the climate zone for this specific home shall be selected for all windows to be replaced. |
| ▢ | Egress windows and safety glass shall be specified in accordance with local codes. |
| ▢ | The presence of lead-based paint in pre-1978 homes shall be assumed unless testing confirms otherwise. The work shall comply with EPA's Lead Renovation, Repair and Painting (RRP) Rule (40 CFR Part 745) in pre-1978 homes and proposed changes to this rule (Federal Register/Vol. 75, No. 87/ May 6, 2010). |
| ▢ | When the existing window has internal weight pockets, the hardware shall be removed and the pockets shall be fully insulated and air sealed with non-expanding spray-in foam or blown-in insulation and sealants. |
Option 1: Window Replacement in Existing Frame

| | |
| --- | --- |
| ▢ | Interior stops, sashes, parting strips, and pulleys shall be removed and the rough opening shall be cleaned and fully sealed. |
| ▢ | Sealants shall be durable, pest resistant, compatible with their intended surfaces, have a weather-appropriate seal, and be applied in accordance with manufacturer's specifications. |
| ▢ | Indoor sealants shall be low volatile organic compound (VOC) products that meet independent testing and verification protocols, such as Green Seal, GREENGUARD, or comparable certifications. |
| ▢ | Replacement windows will be installed in accordance with manufacturer's specifications, ensuring that the exterior stops are caulked and that the new window inserts are sealed at the existing frame. |
Option 2: Window Full-Frame Replacement (Recommended)

| | |
| --- | --- |
| ▢ | Replacement windows shall be installed in accordance with manufacturer's specifications and with ASTM E2112-07(2016) Standard Practice for Installation of Exterior Windows, Doors and Skylights. |
| ▢ | Cladding or trim shall be removed as required to install head, jamb, and sill flashing. |
| ▢ | Head, jamb, and sill flashing shall be fully integrated with the weather-resistant barrier (e.g., house wrap, building paper, taped water-resistant sheathing, liquid-applied coating, or another approved material). Membranes shall be installed shingle-fashion where the top layer of the flashing or weather-resistant barrier laps over the bottom layer to prevent water from draining behind the bottom layer. |
| ▢ | Add material or cut the existing weather resistant barrier to create a flap at the top of the window opening. Tape the flap so that it is temporarily folded up, toward the sky. |
| ▢ | Extend the weather resistant barrier 4 inches into the frame opening and wrap around the opening toward the interior of the house. Trim the weather resistant barrier if needed to ensure it will not be visible from the interior of the house after trim is installed. |
| ▢ | Rigid, flexible, or fluid-applied pan flashing shall be installed at sills and extend to the face of the weather-resistant barrier. |
| ▢ | Caulk the outside edges of the head and side jambs. Do not caulk the across the sill. |
| ▢ | Windows shall be installed according to manufacturer's instructions including installing flanges over the flashed opening, or with metal clips provided by the window manufacturer for this purpose, or with 20-gauge metal tie plates screwed to the window first if metal clips are not provided. |
| ▢ | Side (jamb) flashing shall be installed over window flanges and pan flashing and extend above the top (head) flange and be integrated with the weather-resistant barrier on the exterior sheathing. |
| ▢ | Top (head) flashing shall be installed over and beyond the jamb flashing (and over the drip cap if installed) and be fully integrated with the weather-resistant barrier on the exterior sheathing. Install the top flashing so that it does not inhibit the flap created in the weather resistant barrier from being folded down. |
| ▢ | Integrate the weather-resistant barrier at the top of the window (e.g., fold down and tape the house wrap over the head flashing). |
| ▢ | The entire rough opening on all four sides shall be sealed with non-expanding spray foam. |
| ▢ | All cladding or trim removed to install flashing shall be replaced with either wood, cementitious board, or composite exterior trim that shall be primed on all six sides. |
Commissioning

| | |
| --- | --- |
| ▢ | Occupants will be notified of changes or repairs made and will be educated on how to operate and maintain windows. |
Tips to Sell Quality Installed Home Improvements
Home Improvement Expert (HIE) is a valuable tool for organizations committed to quality installed work. The following tips help optimize the value of this tool when selling home improvements:
Be the Expert: Take advantage of Building America Solution Center comprehensive guidance on 'Existing Home' retrofits.
Earn Trust: Inform homeowners how your work conforms to U.S. Department of Energy (DOE) world-class expert guidance and recommend homeowners visit the DOE website as evidence these are indeed official best practices.
Clarity with Contrast: Tell prospective homeowner clients to compare your expert recommended best practices with other contractors.
Ensure Equivalent Pricing: Tell prospective homeowner clients to insist other bids also include DOE checklists to ensure equivalent quality work.
Translate Value: Note your company uses DOE HIE Checklists based on world-class expert recommendations for home improvements on all your public-facing communication including websites, advertising, and signage.
Create Emotional Experiences: Provide visual evidence contrasting the difference between poor and high quality work such as infrared images for good and bad insulation and air sealing; pre- and post-energy bills following quality installed work; short and long warranties for standard and high-efficiency equipment; and charts showing amounts of contaminants in homes that can be reduced with effective fresh air systems.
Window Replacement Background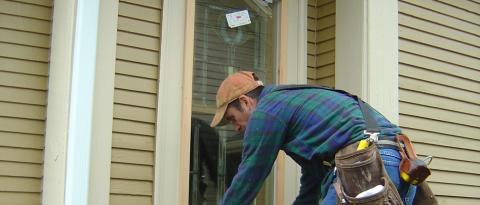 Old windows represent a substantial source of heat loss in winter and heat gain in summer because they provide 5 to 10 times less thermal protection than an insulated wall. With typical window replacements, the existing frame is left in place to minimize the disruption and cost. However, existing windows were often never air sealed behind the trim at the rough opening around the window frame and the window may also lack pan flashing. Homeowners who are replacing windows must decide whether to address these areas of potential air and water leakage by doing a full-frame window replacement or to minimize costs and leave the existing frame in place.