Pre-Retrofit Assessment of Attics, Ceilings, and Roofs
Home owners may consider converting a vented attic to an unvented attic to add rooms in the attic, to provide temperate storage or a temperate space for heating and cooling equipment, or because a roof replacement may offer the opportunity to reinsulate the attic. If heating and cooling equipment must be located in the attic, then sealing the attic vents and insulating the attic space along the roof line makes sense from an energy-efficiency standpoint. Heat transfer through the walls of the ducts is reduced, the equipment does not have to work as hard to overcome the greater temperature difference of the attic space, heat loss through duct leaks to the outside is minimized, condensation on the ducts is less likely, and the potential to draw unconditioned unfiltered attic air into the air supply system is eliminated. A full set of guides is available on air sealing and insulating attics in the Existing Homes Tool.
When renovation work will involve the attic, the attic should first be assessed as described in the first section below, Potential Stop-Work Conditions. This inspection must be based on federal, state, and local regulations and should be carried out by a licensed or certified contractor. The following sections provide greater detail on these conditions. This assessment is adapted from the Measure Guideline report, "Guide to Attic Air Sealing" prepared by Building Science Corporation for the U.S. Department of Energy's Building America program.
Potential Stop-Work Conditions
Figure 1 summarizes potential stop-work conditions and the remediation actions needed for each of these conditions. If any of these conditions are found during the site assessment, they must be dealt with before proceeding with improvements to the attic or roof. Additional information on these conditions and others follows the figure.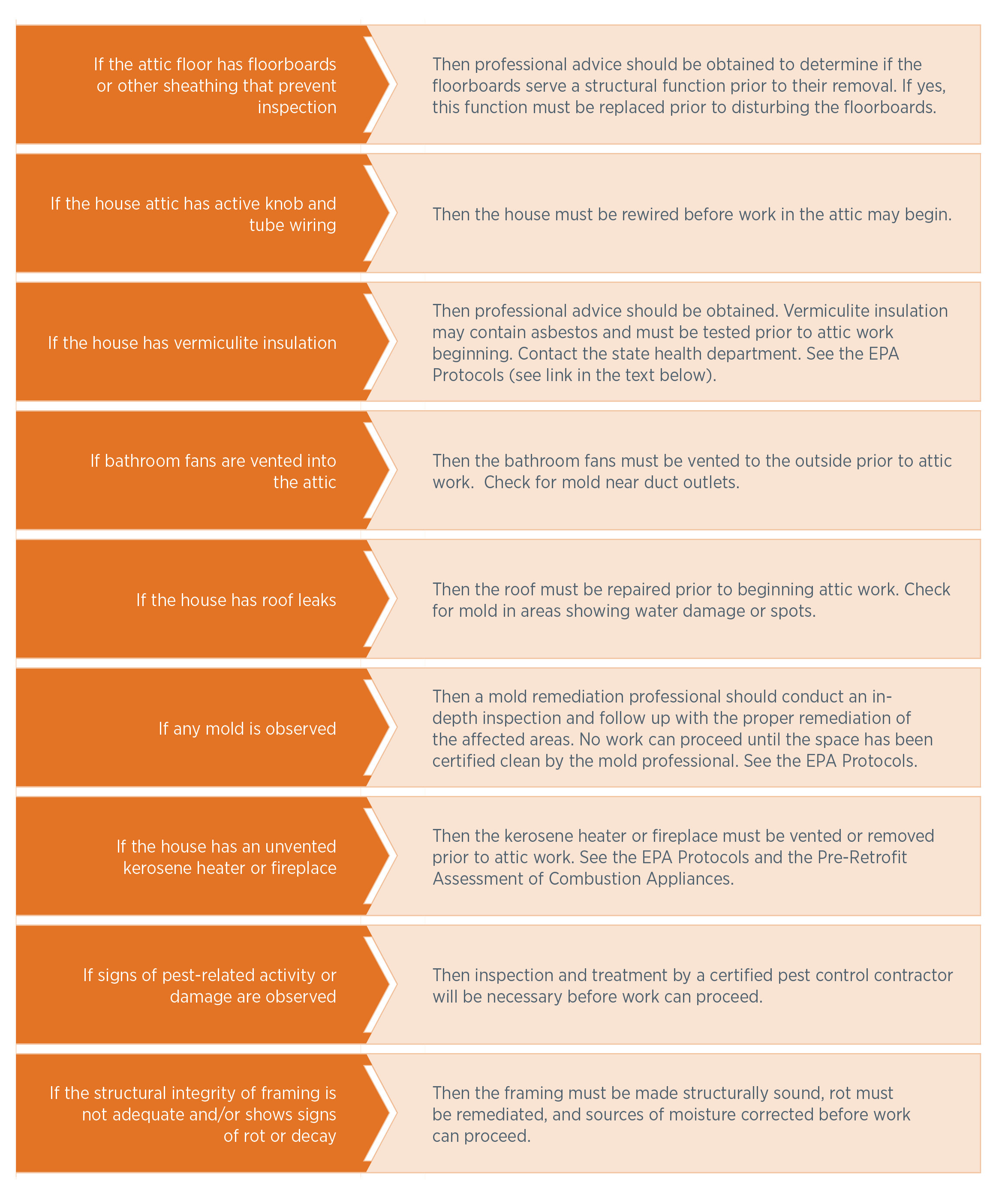 An exterior and interior inspection should be conducted, as well as an inspection of the attic space itself as described in the sections below. Some elements of the attic inspection vary depending on whether a vented or non-vented, conditioned attic is planned.  Find Solution Center guides on both attic types in the Existing Home Checklist.
Note specifics such as the quantity, size, and location of the following items:
Soffit vents, gable end vents, mushroom cap vents, and ridge vents: Note the quantity and size of each and use this information to calculate the amount of upper and lower ventilation present in a vented attic. This calculation is described in the assessment guide "Calculating Attic Ventilation."
Plumbing stacks and flue or chimney shafts: Note the quantity and locations of these stacks. Ensure there are no water leaks around these openings or from the plumbing itself and that they are properly flashed.  See the Solution Center guide "Air Sealing Duct and Flue Shafts "
Interior of Home Walk-Through
Note the locations of the following:
exhaust fans
air supply vents through the ceiling
lighting fixtures in the ceiling, both recessed cans and standard lights
masonry and metal chimney pipe chases.
Look for signs of a leaking roof. If the roof is leaking, it must be repaired before proceeding with the retrofit.
Check each of the items listed in Figure 1 "Potential Stop-Work Conditions" and respond as indicated.
Attic Flooring
Attic flooring or floor sheathing may prevent access to areas that need to be inspected and areas that need to be air sealed. Therefore, it will need to be removed before work can proceed. However, the attic flooring or floor sheathing may also be providing an important structural function. Consult a qualified professional before removing floorboards or sheathing attached to ceiling/attic floor joists that are not parallel to roof rafters. Replicate the structural function of the attic flooring, if needed, before removing it.
Hazardous Materials
If hazardous materials and conditions such as knob and tube wiring, vermiculite insulation, mold, or pest infestation are found, they must be repaired or mitigated before proceeding with the retrofit. For more information, see the assessment guide Pre-Retrofit Assessment of Hazardous Materials and the  U.S. Environmental Protection Agency's Healthy Indoor Environment Protocols for Home Energy Upgrades. For more on vermiculite and asbestos, see the EPA's Asbestos website.
Exhaust Fans
Refer to the list of exhaust fans identified during the walk-through. Ensure that none of these exhaust fans vent into the attic but instead that all of them vent to the exterior of the house. For more information see the guide on assessing ventilation equipment. If any exhaust fans currently vent into the attic, look for signs of mold, which will need to be remediated before renovation work can proceed.
Roof Leaks
Inspect for water staining, damp wood, and other signs of roof leaks. Especially inspect around .
Plumbing Stacks and Flue or Chimney Shafts
As part of the attic inspection, note specifics such as the presence, size, and location of these items. Compare to your notes from the interior and exterior evaluations for the locations of the plumbing stacks and flue and chimney shafts. Ensure that there are no leaks around the penetrations through the roof or from the plumbing itself. In vented attics, insulate any supply pipes to stop condensation and to avoid heat loss. Ensure that nonflammable materials will be available for air sealing. See the Solution Center guide, Air Sealing Duct and Flue Shaft.
Combustion Appliances and Carbon Monoxide
If fuel-fired combustion appliances, such as a furnace or water heater, are located in a vented attic that will be sealed and insulated, determine their venting and combustion air sources before conducting renovations such as air sealing the attic. If they are natural- draft or open-combustion (Category 1) appliances that draw their combustion air from the surrounding space, the best approach is to replace a natural draft-vented furnace or water heater with a sealed-combustion, direct-vent appliance or an electric heat pump or heat pump water heater. Direct-vent gas furnaces draw combustion air directly from outside through piping to the unit. All combustion by-products are vented through sealed piping to the outdoors, minimizing the possibility of any carbon monoxide spillage into the home.
If the Category 1 appliances will remain, all gas lines and gas appliances should be tested for gas leaks and the vents, burners, crossovers and heat exchangers should be visually inspected proper size and pitch and to confirm there are no blockages, cracks, leakage, or corrosion. A worst-case depressurization test and worst-case spillage test of the combustion appliances should done, and carbon monoxide levels around the appliances should be checked with a CO detector before and after renovations are completed. See the assessment guide "Pre-Retrofit Assessment of Combustion Appliances" for more information.
Condensate Drains
If there are mechanical systems in the attic such as an air conditioner or heat pump that have a condensate drain, the drain line should be adequately supported and routed directly to a drain or a sanitary sewer. In addition to the primary drain, and as a safety precaution in case the primary drain fails, an auxiliary drain pan with a separate drain should be located beneath any evaporator coil to prevent condensate from flooding the attic and spaces below.
Ductwork
If the attic will remain vented and ductwork and/or air handling equipment will remain in the attic, ensure that the air handler cabinet is air sealed and inspect and test the ducts to ensure that they are air sealed and insulated. To further reduce heat loss, the ducts can be buried under deep insulation or encapsulated with spray foam and buried in blown insulation. The Existing Homes Tool links to several guides describing how to seal and insulate ducts.
Check with local code authorities prior to the installation of any insulation to ensure that all local code requirements are met, such as R-value levels for insulation and fire and combustion safety requirements.
During any air sealing process, follow safe work practices to minimize any effects from sealants or adhesive fumes on workers' health. Temporary ventilation could be necessary during the installations. See the U.S. Department of Energy's Standard Work Specifications for more information about worker safety in attics.
More Info.
Access to some references may require purchase from the publisher. While we continually update our database, links may have changed since posting. Please contact our webmaster if you find broken links.
References and Resources*
Author(s):

U.S. Environmental Protection Agency

Publication Date:

July, 2017

EPA's website about asbestos.

Author(s):

U.S. Environmental Protection Agency

Publication Date:

December, 2014

This publication provides a set of best practices for improving indoor air quality in conjunction with energy upgrade work in homes.

Organization(s):

Building Science Corporation

Publication Date:

September, 2014

Report that provides information and specifications to anyone that is attempting to air seal existing attics.

Organization(s):

Building Science Corporation

Publication Date:

September, 2014

Report that provides information and specifications to anyone that is attempting to air seal existing attics.
*Publication dates are shown for formal documents. Dates are not shown for non-dated media. Access dates for referenced, non-dated media, such as web sites, are shown in the measure guide text.
Last Updated:
Monday, July 17, 2017
Did you find this information helpful?