Mulching
Scope
Cover all exposed soil with a 2- to 3-inch layer of mulching material. Mulch can provide many benefits to a landscape, including reducing the evaporation of water from the soil.
See the Compliance Tab for related codes and standards requirements, and criteria to meet national programs such as DOE's Zero Energy Ready Home program, ENERGY STAR Certified Homes, and Indoor airPLUS.
Description
Mulching has numerous beneficial effects upon the soil and plants, including:
Preventing loss of water from the soil by evaporation. Moisture moves by capillary action to the surface and evaporates if the soil is not covered by mulch.
Suppressing weeds when the mulch material itself is weed-free and applied deeply enough to prevent weed germination or to smother existing small weeds.
Maintaining a more uniform soil temperature. The mulch acts as an insulator that keeps the soil cool under intense sunlight and warm during cold weather.
Preventing crusting of the soil surface, thus improving absorption and percolation of water into the soil and, at the same time, reducing erosion.
Improving soil structure by using organic materials as mulch. As mulch decays, the material becomes topsoil. Decaying mulch can also add nutrients to the soil.
Increasing the beauty of the landscape by providing a cover of uniform color and interesting texture to the surface.
Healthy soils effectively cycle nutrients; minimize runoff and maximize water holding capacity; absorb excess nutrients, sediments, and pollutants; and provide a healthy rooting environment and habitat for plants. Preserving existing topsoil, adding organic material, and minimizing compaction are practices that allow soils to function as a base for large, healthy plants that require fewer pesticides, fertilizers, and supplemental water for plant growth. Healthy soils also maintain a permeable soil structure, which ensures higher water infiltration rates that in turn reduce erosion, runoff, and flooding potential.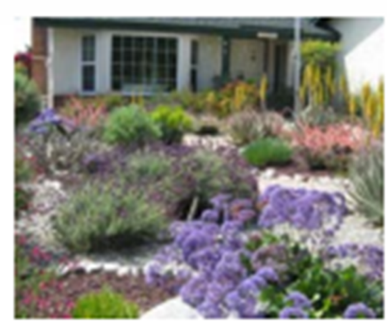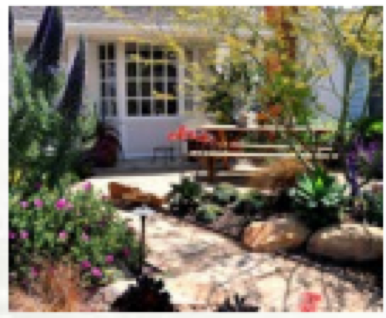 Mulching is an extremely important practice for establishing plantings, as it helps to conserve moisture in the root ball of the new plant until it establishes roots in the adjacent landscape soil. Mulch also helps discourage weeds that can compete with new plantings for water, nutrients, and light. Mulch can be used instead of grass around individual trees and shrubs in a lawn. This greatly reduces the competition for water and nutrients from the turf and increases the growth rate and health of trees and shrubs. In addition to being useful around plants, mulch can be used as a groundcover for walks, trails, driveways, and natural and play areas. It can be used temporarily to cover low-growing tender plants to protect them from frost injury. Mulch also can be composted and used as a soil amendment. For trees, at a minimum, mulch should be applied to the area below the tree's canopy from the tree base to the drip line, or the border of the canopy of the tree, leaving space between the beginning of the mulch layer and the tree trunk to prevent rot.
Too much mulch, however, can create problems. Because mulch helps retain moisture, too much mulch can lead to excess moisture. Especially in trees, this can lead to root rot. Do not pile mulch against the stems of plants or the trunks of trees, as this can cause stress on the plant tissues and lead to pest problems. Too much mulch can also alter the pH of the soil, causing toxicities or deficiencies. Piled mulch provides a home for rodents, which in turn may chew the plant roots and cause tree girdling. Fine mulch can become matted if applied too thick, preventing air and moisture penetration.
Ensuring Success
The inspector will verify that all mulched areas are between 2 and 3 inches deep and that there are no areas of exposed soil in the landscaped area.
Mulch entire beds of shrubs, trees, annuals, perennials, and/or ground covers. For the purposes of this specification, mulch is defined as a permeable arrangement of organic and/or inorganic materials that will retain soil moisture, suppress weeds, and allow free movement of oxygen into and out of the soil. For example, organic mulches include wood-based materials such as wood chips or bark, while inorganic mulches include rock-based materials such as pea gravel or lava rock. Artificial turf is considered mulch for the purposes of this specification, provided that it meets the definition.
Make sure mulch is at least 2 inches, but no more than 3 inches deep. When complete, the landscape should not have any areas of exposed soil. Additionally, the landscape professional should take measures to prevent on- and off-site migration of mulching materials to sidewalks, streets, etc.
Climate
Install climate-appropriate mulches.
Compliance
The Compliance tab contains both program and code information. Code language is excerpted and summarized below. For exact code language, refer to the applicable code, which may require purchase from the publisher. While we continually update our database, links may have changed since posting. Please contact our webmaster if you find broken links.
This Retrofit tab provides information that helps installers apply this "new home" guide to improvement projects for existing homes. This tab is organized with headings that mirror the new home tabs, such as "Scope," "Description," "Success," etc. If there is no retrofit-specific information for a section, that heading is not included.
Guidance for the measures described in this guide is applicable to both new and existing homes.
More Info.
Access to some references may require purchase from the publisher. While we continually update our database, links may have changed since posting. Please contact our webmaster if you find broken links.
Did you find this information helpful?
Last Updated:
06/26/2017