No Wall-to-Wall Carpet Installed in Wet Areas
Climate
No climate specific information applies.
Description
In the bathroom design and construction, a water management strategy needs to be comprehensive and include the following: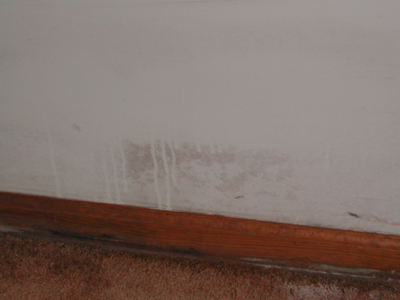 Figure 1 - Mold on the Wall, Baseboard, and Carpet. Wall-to-wall carpet installed in a bathroom will likely become wet, not dry completely, and encourage mold growth, which is visible on this wall, baseboard, and carpet.
No carpet should be installed within 2.5 feet of toilets, tubs, or showers. 
Water splashing or spraying out of the shower or bath is unavoidable, and water vapor in the air from showering and bathing can condense into liquid on bathroom surfaces. Likewise, basic cleaning and maintenance of sinks and toilets will invariably result in bathroom floors becoming wet. Also, damp or wet carpet can allow moisture to seep into the subfloor without allowing for adequate drying and can result in warping, swelling, and rotting of the subfloor. 
To reduce the chance of structural damage and mold growth, do not install carpet closer than 2.5 feet from the edge of the toilet, bathtub, or shower surround. Note that best practice calls for no installed carpet in the bathroom.
Install Water-Compatible Flooring in the Bathroom
Appropriate flooring materials for bathrooms, and other "wet areas" like kitchens that produce excessive moisture, include the following (EPA 2012):
Ceramic tile. Ceramic tile is a clay-based material that is kiln dried and installed in mortar or thin set over a cement backer-board. Once installed, the tiles are treated with a water-resistant finish that protects the floor and subfloor. Relative to other flooring types, ceramic tile is moderately priced.

Stone. Stone is a natural product that is installed like ceramic tile over a cement backer-board in thin set. Natural stone can be marble, granite, travertine, or terrazzo and must also be treated with a waterproof coating. Stone is the most expensive flooring option.

Vinyl flooring. Vinyl flooring comes in rolls, planks, and tiles, and is composed of polyvinyl chloride (PVC) resin along with additives such as plasticizers, stabilizers, pigments, and fillers (

EPA 2012

). Vinyl flooring is relatively inexpensive compared to ceramic tile and stone flooring. When properly installed, vinyl flooring provides a waterproof barrier between the bathroom and subfloor. Vinyl flooring that comes in rolls is installed using an adhesive that is painted or sprayed directly on the subfloor. Vinyl planks and tiles usually have self-adhesive peel-and-stick backing material.
Besides wall-to-wall carpet, flooring materials that are not appropriate for wet areas include the following:
Hardwood flooring. Although usually sealed and water proofed, hardwood flooring is not generally rated for excessive and repeated exposure to water.

Laminate flooring. Laminate flooring is made from either melamine resin or linseed oil and wood chips. Although laminate flooring can tolerate some exposure to water, excessive saturation, spills, or standing water will damage the material over time. 

Bamboo, cork, and alternative flooring options. Other types of modern sustainable flooring options such as bamboo and cork are not appropriate for wet areas as they will warp and wear poorly when exposed to the amount of water expected in a bathroom.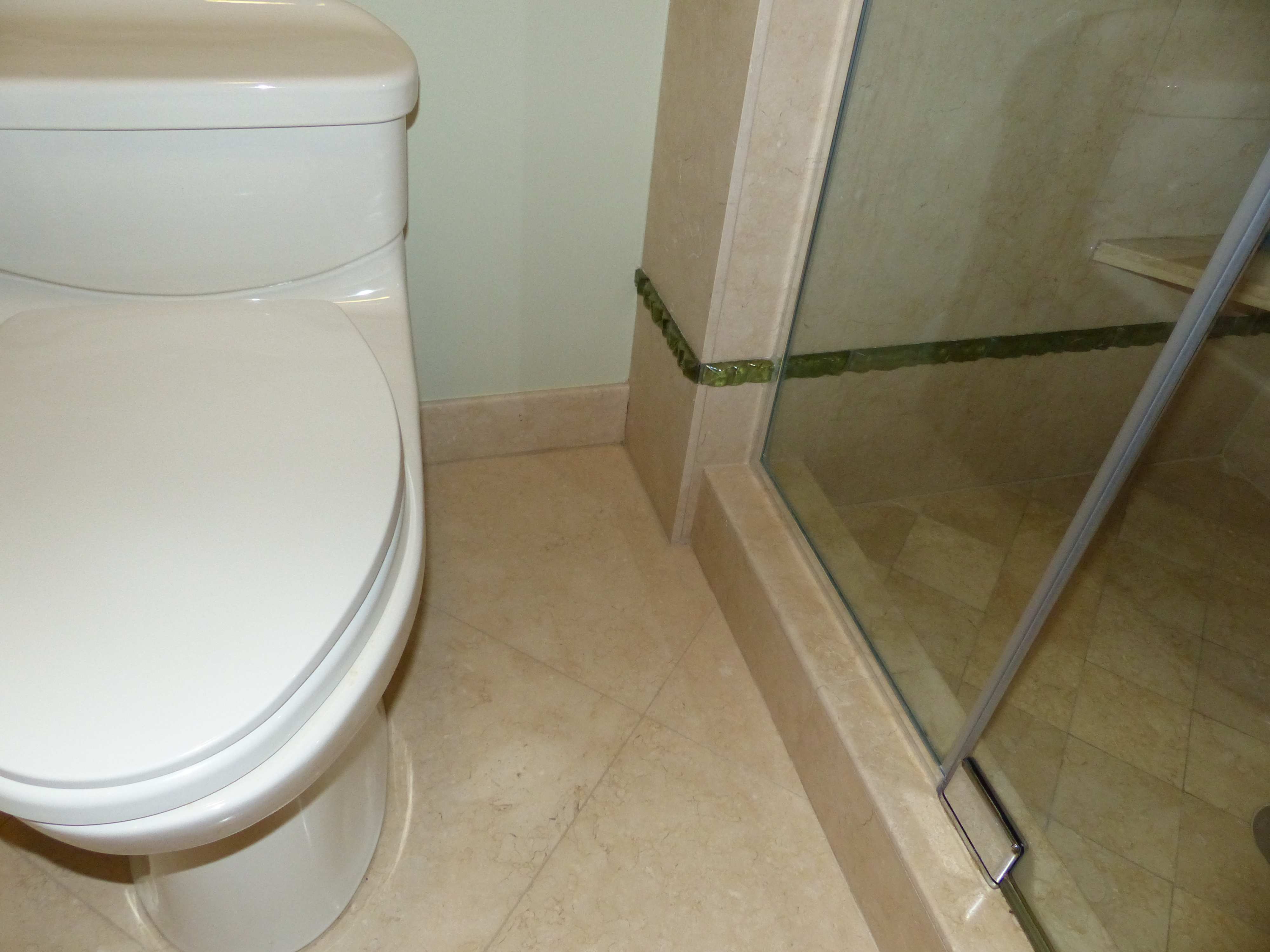 Figure 2 - Select Flooring Appropriate for Wet Area. The toilet, sink, bath, and shower are all significant sources of water, and flooring options need to be selected that do not absorb water and are not damaged by water. 
Consider Making the Bathroom a True "Wet Room"
Due to the amount of water that can be introduced into the home from showers, tubs, and toilets, you might consider designing and building the bathroom (and also the laundry room and kitchen) as a true "wet room." A designed wet room is built to contain water, keeping it from entering the other parts of the house, and to remove excessive water.
To construct a wet room, follow this overall guidance (BSC 2009):
Install a water-resistant flooring material (as listed above and according to manufacturer's specifications) that extends wall-to-wall, continuous under fixtures and cabinets with only those penetrations needed for plumping pipes.

Caulk and seal all plumbing pipe penetrations.

Select water-resistant baseboard material sealed to the floor or floor material turned up at the wall and sealed at the corners.

Install a floor drain that is properly attached to the home's sewer system.

Install a raised sill at doorways to contain any excessive water that may flow toward the rest of the home.

Make sure all drywall is installed at least ½-inch above the finished floor to reduce the chance of wall materials coming into contact with and absorbing water.
Ensuring Success
No wall-to-wall carpet installed within 2.5 feet of toilets, tubs, and showers is part of a comprehensive water management strategy for bathrooms that includes these other guides:
Scope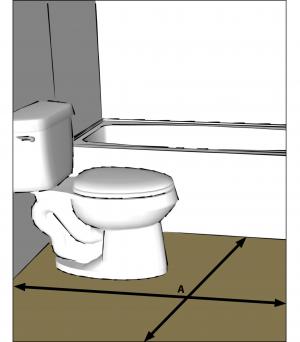 Water Managed Building Materials
Wall-to-wall carpet not installed within 2.5 feet of toilets, tubs, and showers.
Do not install wall-to-wall carpet within 2.5 feet of toilets, tubs, and showers.
.
Compliance
ENERGY STAR Version 3, (Rev. 07)
Water Management Checklist, Water-Managed Building Materials. Wall-to-wall carpet not installed within 2.5 feet of toilets, tubs, and showers.

DOE Challenge Home
Exhibit 1: Mandatory Requirements. Certified under ENERGY STAR Qualified Homes Version 3.
Last Updated:
08/15/2013