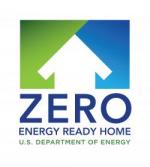 The U.S. Department of Energy is charting the course toward high-performance, zero-emissions new homes. A critical program for achieving this goal is the DOE Zero Energy Ready Home program. The DOE Zero Energy Ready Home (ZERH) program has become the proving ground for what is possible in the new construction market, showing that extraordinary home performance can be achieved across all climate zones and regions. The next iteration of the DOE Zero Energy Ready Home program, ZERH Version 2, will incorporate even higher levels efficiency tied to the International Energy Conservation Code (IECC) 2021. The climate-specific guidance in this section of the Building America Solution Center is geared to helping builders meet the 2021 IECC envelope requirements as well as the HVAC and equipment performance requirements of the DOE Zero Energy Ready Home program.
Use the interactive map below to find climate-specific guidance on Building America's Optimized Solutions for New Homes.  Click on the climate zone you are interested in to find insulation, HVAC, and equipment criteria for meeting the 2021 IECC and DOE ZERH with links to guides providing options for meeting each high-performance home criteria as well as step-by-step installation guidance. You'll also find case studies for each climate zone describing how other ZERH builders have constructed homes that meet the criteria. In addition, you'll find detailed drawings from Building Science Corporation showing construction, insulation, air sealing, and water management details for roofs, walls, foundations, and windows tailored to that climate zone.
For more information about climate designations, see the Building America  Guide to Determining Climate Zones by County: Building America and IECC 2021 Updates.
Data files of the IECC and Building America Climate Zone maps have been prepared and are made available for your use. These raw data files, which provide county-level spatial data.  are available HERE. Each layer file includes the legacy climate zone (pre-2021) along with the updated 2021 data. Additionally, a separate layer file has been created showing the differences between the pre- and post-2021 data for both the IECC and the Building America maps.