WaterSense checklist number 3.4.1 Toilets – Toilet flushing accounts for nearly 30 percent of residential indoor water consumption. Recent improvements and advancements in toilet design and performance have allowed toilets to use 20 percent less water than the current federal standard, while still providing equal or superior performance. WaterSense® labeled toilets have been independently certified to meet rigorous criteria for both efficiency and performance.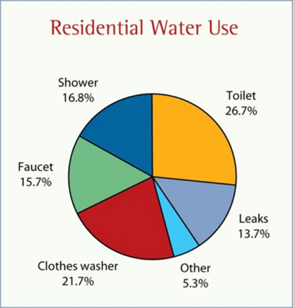 The WaterSense specification covers both single-flush and dual-flush tank-type toilets. All tank-type toilets store water in the toilet tank and include the standard gravity type (found in most homes), pressure-assisted, and electrohydraulic-assisted toilets. Dual-flush toilets are similar to single-flush toilets, but have two flush volumes—a full flush for solids and a reduced flush for liquids only. Tankless valve-type or flushometer-valve toilets—toilets that rely on water pressure controlled by flushing valves to remove waste rather than gravity—are not covered by this specification, because of their differing design, patterns of use, and performance expectations.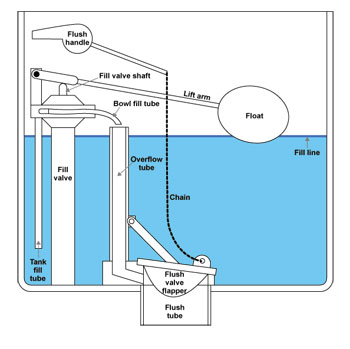 The primary water efficiency and performance criteria of the WaterSense tank-type toilet specification are:
The toilet's maximum average flush volume must be no more than 1.28 gallons per flush (gpf) (4.8 liters per flush [lpf]. The average maximum flush volume for dual-flush toilets is determined by averaging the volumes of one full flush and two reduced flushes.
The toilet must be able to completely remove 350 grams of solid waste test media in four out of five test attempts.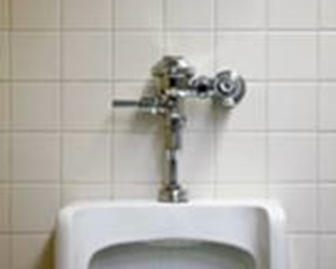 3.4.2 Flushing Urinals – For flushing urinals, the WaterSense specification covers: flushing urinal fixtures that receive liquid waste and use water to convey the waste through a trap seal into a gravity drainage system; pressurized flushing devices that deliver water to urinal fixtures; and flush tank (gravity type) devices that deliver water to urinal fixtures. Urinals that are non-water using are inherently water-efficient, although they are not WaterSense labeled by EPA. For more information, see EPA's guidance on non-water using urinals.
The WaterSense flushing urinal specification requires that the average maximum water consumption must not exceed 0.5 gpf (1.9 lpf) when tested in accordance with national performance standards (i.e., ASME A112.19.2/CSA B45.1 [ceramic urinals], ASME A112.19.3/CSA B45.4 [stainless steel urinals], IAPMO Z124.9 [plastic urinals], ASSE #1037 [pressurized flushing devices]). The specification also includes three requirements to ensure the long-term performance and water savings of these high-efficiency devices:
The primary actuator must be a non-hold-open design to limit the amount of water released per flush, regardless of how long the actuator is held open.
The device's flush volume can be adjustable, but only to within ± 0.1 gpf of its rated flush volume. This will allow for field adjustments that may be necessary depending on building water pressure or other onsite conditions.
The device should be designed to prohibit the interchangeability of replaceable or maintainable parts with parts that would cause it to exceed its rated flush volume.
WaterSense has not developed any criteria for bidets. Bidets may be installed at the builders' discretion and will not be evaluated as part of the WaterSense inspection.
Inspectors will obtain the make and model name and number of all toilets and flushing urinals installed in the house and verify that they are on EPA's list of WaterSense® labeled tank-type toilets and flushing urinals.
All toilets are required by the ASME/CSA performance standards to be marked with their water consumption. Product packaging and documentation will likely bear the WaterSense label. Both the product and product packaging for WaterSense labeled flushing urinals must be marked with the rated flush volume in gpf and lpf and will likely bear the WaterSense label.
The WaterSense website provides a complete listing of WaterSense labeled tank-type high-efficiency toilets and flushing urinals.