Interior paints and finishes may contain Volatile Organic Compounds (VOCs). VOCs include a variety of chemicals, some of which may have short- and long-term adverse health effects. Concentrations of many VOCs are consistently higher indoors (up to ten times higher) than outdoors. VOCs are emitted by a wide array of products. Examples include: paints and lacquers, paint strippers, cleaning supplies, pesticides, building materials and furnishings, office equipment such as copiers and printers, correction fluids and carbonless copy paper, graphics and craft materials including glues and adhesives, permanent markers, and photographic solutions.
VOCs can cause eye, nose, and throat irritation; headaches; loss of coordination and nausea; and damage to the liver, kidneys, and central nervous system. Some organics can cause cancer in animals; some are suspected or known to cause cancer in humans. Key signs or symptoms associated with exposure to VOCs include conjunctival irritation, nose and throat discomfort, headache, allergic skin reaction, dyspnea, declines in serum cholinesterase levels, nausea, emesis, epistaxis, fatigue, and dizziness.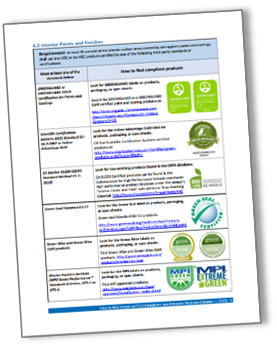 When found in building materials, VOCs tend to be emitted at higher levels when materials are new, with emissions lessening over time. This can mean that VOC emissions in a home could be particularly high during construction and upon first occupancy. To protect indoor air quality for both occupants and contractor staff, the best approach is to limit use of VOC-containing materials by specifying and purchasing low- or no-VOC products. Paints, sealants, coatings and adhesives are building products that traditionally contain VOCs. However, there is an increasing supply of low-and no-VOC alternatives, and often manufacturers will supply both an original formula as well as a low-VOC formula. Although some contractors may express concern as to the adhesive quality of low- or no-VOC products, this concern is not necessarily well-founded, and working with the product supplier can help to ensure an equivalent low-emission product is selected.
Using certified products lowers occupants' risk of exposure to high levels of VOCs from construction materials. These Indoor airPLUS specifications can be implemented by requiring documentation of material certification for each material submittal package from sub-contractors. Any submittal requirements, such as manufacturer documentation of product certifications, should be clearly outlined in the project specifications and/or subcontractor bid package. Information for each third party certification and emissions standard required by Indoor airPLUS can be found in the How to Find Indoor airPLUS Compliant Low-Emission Products document.