VOCs are emitted through off-gassing from many household products, including carpets and carpet adhesives. The How to Find Indoor airPLUS Compliant Low Emission Products document provides guidance on identifying compliant products including industry databases and examples of product labeling.
The Green Label Plus program tests carpets for emissions levels of 13 different chemicals, and tests carpet adhesives for 12 different chemicals. All Green Label Plus certified carpet and adhesives undergo a three-tier testing process, including follow-up testing to monitor continual compliance with emissions limitations.
As specified by the Green Label program, cushion products are characterized as prime polyurethane, bonded polyurethane, mechanically frothed polyurethane, rubber-hair, rubber–jute, synthetic fiber, resinated or coated synthetic fiber, rubber and rubberized polyurethane. Carpet cushions are tested for the following:
total volatile organic compounds (TVOCs)
butylated hydroxytoluene (BHT),
formaldehyde,
4-phenylcyclohexine (4-PCH).
The maximum emissions limits for these are as follows:
1000 µg/m² hour for TVOCs,
300 µg/m² hour for BHT,
50 µg/m² hour for formaldehyde,
50 µg/m² hour for 4-PCH.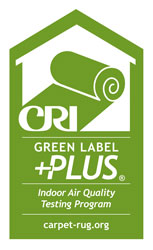 Green Label and Green Label Plus are independent product certification programs run by the Carpet and Rug Institute (CRI). These certifications include third party verification to ensure products meet strict emissions limits. Each certified product is listed in the CRI certified products database, located on their website at www.carpet-rug.org.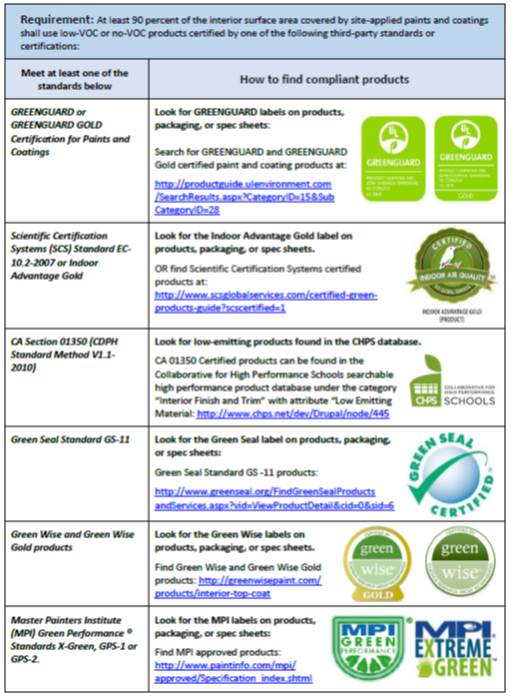 Using certified products lowers occupants' risk of exposure to high levels of VOCs from construction materials. These Indoor airPLUS specifications can be implemented by requiring documentation of material certification for each material submittal package from sub-contractors. Any submittal requirements, such as manufacturer documentation of product certifications, should be clearly outlined in the project specifications and/or subcontractor bid package. Information for each third party certification and emissions standard required by Indoor airPLUS can be found in the How to Find Indoor airPLUS Compliant Low-Emission Products document.